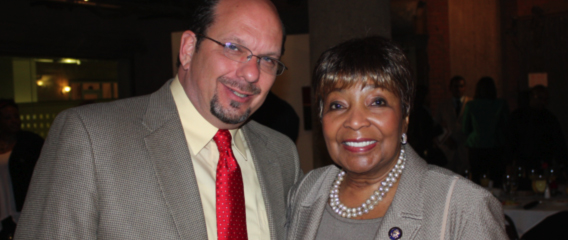 Governmental Leaders Recognize the Value of Feed 3
Dallas Mayor Mike Rawlings spoke Recently to the North Texas Hunger Summit declaring that Dallas would become a "No Kid Hungry City" and a Food Planning Association would accomplish this goal.
The summit was hosted by 30th District Congresswoman Eddie Bernice Johnson who moved to action after viewing a local non-profit video on hunger.
The video created by FEED 3, a local educational nonprofit focused on addressing hunger and poverty in North Texas, revealed that over 380,000 North Texas children are challenged with hunger. The summit held at the Dallas Farmers Market, included governmental agencies, non-profits, local community food pantries, and business leaders.
Congresswoman Johnson shared passionately her desire to end hunger in the 30th District where some of the most impoverished counties of Texas exist. Determined to follow through on her commitment, Johnson's staff worked over the past nine months with local non profits to assist in launching a Food Planning Association. Local organizations such as CitySquare, a leading nonprofit that addresses hunger with families and children, FEED 3, North Texas Food Bank, DISD, USDA, Greater Dallas Justice Revival, Texas Baptist, and local food pantries are key partners in forming the local food planning association.
The Food Planning Association (FPA) will take a close look at where child hunger needs are greatest in the area, and will then work to implement programs there. Some of the key objectives will be to ensure the delivery of $500 million in federal dollars to local impoverished neighborhoods, increase enrollment of children in school breakfast, lunch and summer feeding programs, development of local neighborhood nonprofit and church food pantries, construction of grocery stores in "food deserts", and the development of community gardens and healthy lifestyles.
Also involved in the North Texas Hunger Summit was the Texas Hunger Initiative. "Kids who face hunger fall behind in virtually every way, and the Texas No Kid Hungry Campaign seeks to connect children at risk of hunger to programs that can provide regular, nutritious meals," Jeremy Everett, director of the Texas Hunger Initiative, said.
"Child hunger is a serious issue in Dallas and surrounding communities, but the good news is that we have the resources to solve it," Congresswoman Eddie Bernice Johnson said. "The group of talented and strategic partners at this hunger summit is dedicated and will help ensure our children are fed three meals a day, every day."
Dallas Mayor Mike Rawlings, said."We have the necessary programs funded and in place to make certain that every child in Dallas receives the food they need to excel in and out of the classroom. By working together, we can guarantee easy access to these programs for those most in need—our children at risk of hunger."
"We are determined that Dallas will not be the face of Hunger," FEED 3 Director Randy Skinner said. Skinner, who was appointed by former Mayor Tom Leppert to help end hunger in Dallas by 2015, continues to work with Mayor Mike Rawlings in that role. "We are blessed to have public leaders like Congresswoman Johnson and Mayor Rawlings who have dedicated their lives to making Dallas a great city for future leaders, our children".
For more information on how you can become involved in making Dallas a "No Kid Hungry City" please contact us at: info@feed3.org.
Related Links:
www.citysquare.org
www.baylor.edu/texashunger
www.Strength.org