Drug Dealers Threaten Local Pastors
Once the eleventh poorest zip code in the United States and Dallas most violent, West Dallas has seen a steady decline in poverty and crime since 2008. That was the year a U.S. Justice Department "Faith Based Weed & Seed" celebrated its third year of driving out slumlords that were using houses for drug activity. This effort partnered with a buyout of over 300 slum properties over a three-year period by Builders of Hope, drove crime down dramatically.
Two founding members of the Weed & Seed - Norm Henry of Builder's of Hope and Randy Skinner of Strategic Justice Initiatives/FEED 3, were strategic partners in developing a ten-year plan for West Dallas reclamation. The buyout and tear down of these drug houses and rebuilding of affordable housing on their sites, resulted in a housing boom in West Dallas. It also created one of the safest zip codes in Dallas, and is recognized nationally as a model for urban revitalization.
Peace and Calm Shattered on November Night
However, in one of West Dallas neighborhoods where peace and calm prevailed since 2008, violence erupted with rival drug gangs attempting to expand into this community of working class families. The Eagle Ford community, held together by small churches and urban missionaries living among them, was the site of a deadly shootout putting local residents lives at risk. Along with committing a homicide, stray bullets riddled homes, a park, and streets.
Police arrested a man in connection deadly West Dallas shootout on November 19, and according to his arrest-warrant affidavit, 27-year-old Jose Alex Juarez drove his 2009 Nissan Murano to the 2100 block of Chalk Hill Road around 6:30 p.m. Sunday, opening fire among other drug associates.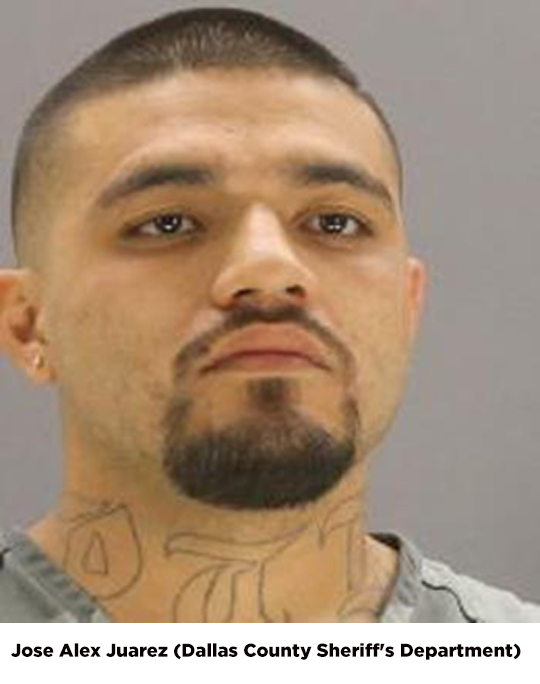 Juarez was booked into the Dallas County Jail early Monday and faces charges of murder and aggravated assault with a deadly weapon. His bail is set at $603,000.
Beginning in the summer of 2017, Juarez and his associates frequented the local park selling drugs to users who lived outside the 80 affordable homes built by Builders of Hope. The newer homes are surrounded by homes built in the 1950's where drug users live. Local mission pastors operated between policing the park and confronting the drug and gang members on a regular basis, and on two occasions being threatened with weapons and assault.
Local missionary pastor Randy Skinner who lives in the neighborhood says: "It's been a challenging year, drug deals occurring day and at night, putting our local children and families at risk." Skinner was recently threatened with assault, but reasoned with the drug dealers who were high on heroin.
"Literally, you can see where the power of prayer and our taking care of many of these drug users and their families in times of crisis, brings protection." says Skinner. He credits local Pastor Donald Coleman of the Mt. Olive Baptist church of being a major influence on bringing the community together. Coleman, a former drug dealer himself, has reached out to the addicted family members offering them hope.
Skinner continued: "The fact that this recent shooting involved Russian AK Assault Weapons and the targeted victims were firing back with automatic weapons with children in the streets, and none were hurt, is evidence of God's protection."
An Opportunity for Healing
While police responded quickly and have been working with local pastors and the community for a forceful response, the tragedy has opened the door for healing. Local mission families are a part of Gateway Church, Upper Room Church and Bill Herrod Baptist Church.
Skinner, recently led a group of Christ for the Nations Institute (CFNI) students to the site of the homicide, to pray over the location where the victim died. Relatives of the deceased, who were also involved in drugs, openly wept and received prayer. While the CFNI students were ministering to the relatives, one of the drug dealers who had threatened Skinner earlier in the summer came out of the home.
"It became a powerful time of offering him comfort with the murder of his uncle, and hearing the gospel", says Skinner. "It definitely changed the dynamic of our relationship to one of seeing us as a friend, rather than as an enemy."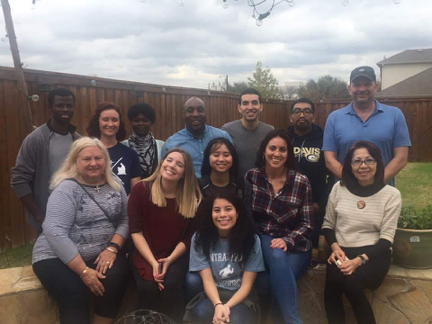 The CFNI students who are studying to become missionaries, and represented seven different nations prayed with families affected throughout the community.
Christ for the Nation's Prayer Group representing seven nations prayed on the site of the shooting and with families in West Dallas, with Randy Skinner.
Skinner, Pastor Coleman along with other urban missionaries are increasing their outreach to families in the community. Recently, the 100-year old Mt. Olive Baptist Church was the site of a remodeling effort by Gateway Church Men's Ministry and FEED 3. This brought an increase in church membership and community involvement. During the holiday season, the pastors are praying for more opportunities among the struggling families to help them with basic needs, Christmas gifts, and to improve the community.
FEED 3 develops Houses of Hope, planting missionary couples into the inner city and also feeds thousands of meals each year at 26 sites during the summer months. FEED 3 is also involved in disaster relief, sponsorship of students and family in need, and food co-ops.
Personal Testimony About Urban Mission Families
One of the best investments we made in building strong neighborhoods in Dallas is empowering Missionary Families to move into urban distressed areas. Randy and Tammy Skinner received the call of God and planted their family in West Dallas community. We've seen crime decreased, housing prices increase, and neighborhoods caring about each other through their ministry. But, more importantly, many lives have been impacted through the missionary work of Skinners. Your investment will have both an earthly impact of helping the poor and hopeless and an eternal impact of changed lives. What America needs is more Missionary Families like the Skinners to move back to live among the people as a Servant Leader to demonstrate the love of Jesus not just with words but in good deeds and truth."
-Norman Henry, Founder of Builders of Hope CDC
For more information on Houses of Hope, please see http://www.randyskinner.com/house.html
For more information on West Dallas Transformation, see: http://www.randyskinner.com/transformation.html
Give Now