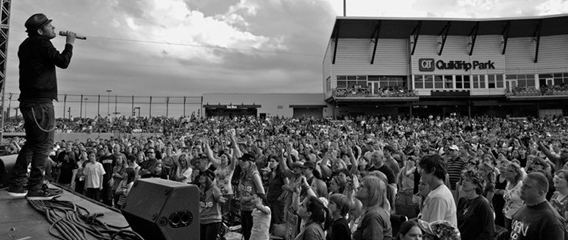 Working with Non-Profits to End Hunger
Feed 3 collaborates with Non-Profit groups to generate awareness and collect resources to help end hunger. Feed 3 recetnly helped organize a significnat event in Dallas, Texas. More than 7,000 attended the May 1, 2010, concert with Grammy Award winning artists TobyMac, Casting Crowns, 10th Ave North, and Caleb in Grand Prairie, Texas. The event was for raising awareness among the local community about the more than 400,000 children in Dallas County and 170,000 children in Tarrant County who face a hunger crisis this summer. Read more.
---
NFL and Major University Players/ Coaches Train Inner City Athletes in South Dallas: July 18-20, 2011
The 2nd Annual "Day of Champions" football camp changed the lives of over 150 inner city students this summer. The camp is run by Josh Heupel's 14 Foundation. Coach Heupel was the quarterback when the University of Oklahoma won the National Championship and is now the quarterback coach for the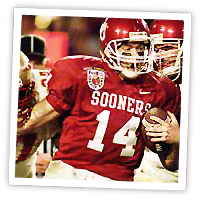 University of Oklahoma.
The three day camp focuses on strength training with 10 training stations dealing with improved skills, quickness, and body positioning. Players worked with some of the top coaches on their skills and positions they play. In addition to the physical training, they were educated on proper nutrition, diabetes, and health issues. Attendees also heard lectures on academic skills, character and ethics.

Attendees also had a personal touch and were inspired as former NFL players shared their personal stories of triumph in the midst of adversity and encouraged the young people to strive for excellence in life.
FEED 3 sponsors events such as "Day of Champions" throughout the year as part of its FEED 3 program. The nationally known Heart of a Champion character development program is a major part of the FEED 3 program.

Please make checks payable to "Strategic Justice Initiatives" and designate the memo line to "Day of Champions." Your gift is tax-deductible. Please send your check to: Strategic Justice Initiative 2114 Iroquois Drive Dallas, Texas 75212

Jubilee Community "Day of Champions" Coaches
Ken Heupel
-President of Day of Champions Inc.
-Head Football Coach Northern State University
Cindy Heupel and academic team
-School Improvement Specialist
-4 Time Regional Principal of the Year
-John Vahn Excellence in Education Award Winner
Other Personalities
Manuel Johnson-Potential
-Wide Receiver Dallas Cowboys NFL
-Former Wide Receiver University of Oklahoma
Dustin Perry
-Assistant Strength Coach Washington Redskin
Earle Mosley
-Former Running Back Coach Chicago Bears
-Former Running Back Coach for Lou Holtz at Notre Dame
-Former Running Back Coach University of Kansas
Jerry Dominguez
-Defensive Coordinator Arizona Western University
Josh Norman
-NFL player San Diego Chargers
Justin Iske
-Offensive Coordinator Northwest Oklahoma State University
-Former Offensive Coordinator Western Arizona
-Former Offensive Coordinator Southwest State University
Waleed Gaines
-Defensive Back Coach Northwestern Oklahoma State University
-Former Defensive Back at Northern State University
Kris Heavner
-Quarterbacks Coach University of Arizona
-Former University of Arizona Quarterback
Lee Blankenship
-Former Quarterback East Central Oklahoma
-Former University of Oklahoma Quarterback
Jarrail Jackson
-Wide Receiver coach at Dartmouth
-Former Wide Receiver University of Oklahoma
Matt Brand
-Running Backs Coach Northwestern OK State University
-Strength Coach Northwestern OK State University
Mike Woods
-Former New York Giants NFL
-Former Defensive Back University of Oklahoma
Ike Eguae
-Football Coach Coffeyville