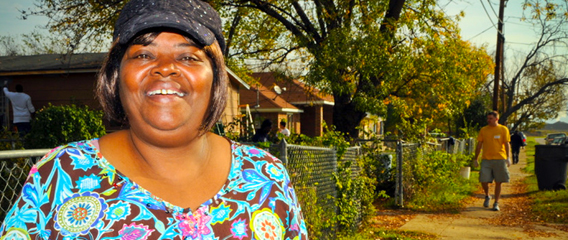 Feed 3 is a critical component to ending cronic homelessness.
The Face of Homelessness is changing in Dallas. In its beginning, there was fierce opposition from a business community opposed to its location, and doubts about its ability to manage our city's increasing homeless population. Read the amazing story of how city leaders, mental health and housing experts are making a lasting difference. Click here.
The True Picture of Homelessness in Our City
While an aggressive campaign to end homelessness in our city has made great advances, there were 1,850 citizens of Dallas on the homeless rolls for the first time due to economic recession. Of the total homeless population, 47% are women and children, while 20% are Veterans who fought for our country. To read more, Click here.
To learn more about how the Dallas Metro Homeless Alliance and faith partners are helping end chronic homelessness, click here: The Call

Why Supportive Housing Ends Homelessness, Reduces Crime, and Changes Lives
We all want safe homes, safe schools, and safe communities. Does it surprise you, that so do the homeless? Forty-Seven percent of the homeless are women and children. Twenty-Three percent are married couples. They want safe affordable housing just like you. To learn more, Click here.
The Moral Obligation of the Faith Community To Respond to the Homeless Crisis
The teachings of Jesus Christ were clear that his followers had a duty and obligation to the homeless and that their response was a reflection of their spiritual condition. To learn more, Click here.

The "Faith in the Homeless" Campaign and How You Can Make A Difference
The Justice Revival commits our spiritual influence to communicate to our cities political leaders, civic leaders, and business leaders the gospel message as it relates to this issue. We will work to facilitate and sponsor neighborhood engagement on this issue as well. For more information on how your church or organization can help, Click here.
The Incredible Success of the Bridge
In 2004, when the City of Dallas presented its 10-year Plan to End Chronic Homelessness which included a recommendation to build a new homeless facility in the city, it faced fierce opposition from the business community opposed to locating services near the central business district. Citizens had doubts about the City's ability to manage an increasing homeless population, and they criticized the Metro Dallas Homeless Alliance's nonjudgmental philosophy toward their clientele.
Today, however, that facility--The Bridge-- receives praise from its former opponents and also from churches, businesses, government, and law enforcement. It is a successful model that is the envy of other cities. Click here to read the full story. Give Now!
---
2,000 Chronic Homeless Housed by End of 2011!
For most Dallas residents, counting sheep is one method to induce a good Night sleep. But for the portion of the population coming out of chronic homelessness, no sleep aid replaces their fundamental need for a bed. Los Angeles based non-profit, A Good Night Sleep (AGNS) is partnering with Sleep Experts, the Metro Dallas Homeless Alliance (MDHA) and FEED 3 to host a bed drop on Thursday, November 3 and Monday,
November 7, 2011. The event will utilize local volunteers from the SMU community and Dallas-area residents to outfit apartments at the Bay at Mandalay in Dallas with 120 beds and basic housing items for residents coming from The Bridge shelter into permanent supportive housing.

"Permanent supportive housing is the vehicle that we're going to use to end homelessness," said Charles Gulley, Vice President of Programs for MDHA.

By the end of 2011 MDHA's HUD funded Continuum of Care Agencies and the Dallas Housing Authority/MDHA Partnership will have created over 2,000 units of supportive housing for single adults with disabilities and families with a disabled parent. Partnering with MDHA in the bed drop is Homes for Our Neighbors an initiative of FEED 3 as well as SMU alumni and volunteers connected to AGNS.

Josh Helland is the Co-Founder and acting Executive Director of AGNS as well as an L.A. based businessman and SMU alum. He and AGNS Co-Founder, Jennifer Kenning, also an alumna of SMU, are hosting the bed drop in Dallas specifically because of their ties to their alma mater and the community surrounding it. Also contributing to the event are Ladies of Charity, who are providing household items for each unit and Family Gateway, the service provider for formerly homeless tenants.

The bed drop is being held in conjunction with SMU homecoming weekend festivities and is hoped to become an annual event. The partnering organizations aim to make bed drops a regular part of the ongoing effort to reduce homelessness in Dallas.

According to Randy Skinner, Director of FEED 3, chronic homelessness in the Dallas area has been reduced 57 percent over the last six years. But homelessness continues to rise as more and more individuals and families are becoming homeless due to the economy, the deficit in affordable housing for lowest income families and cut backs in safety net programs.

"Because of our proactive and aggressive stance, we will have placed people into 2,000 housing units. There's nowhere else in the country I think where that's matched. We now have people in housing that were formerly chronic homeless. That's unbelievable," said Skinner. Michael Faenza, President and CEO of MDHA said that their target is to develop 1800 units of supportive housing through 2015 for single adults and families with parents with disabilities.

"We have a lot of work to do," said Faenza.

"We're very excited about the bed drop. This is the kind of contribution from the private sector that will help us end homelessness. To actually take care of the initial furniture and household needs of people formerly homeless moving into housing, including a bed to get a great Night sleep, is really important and we hope that kind of contribution can expand in the future," said Faenza.

To read more about the FEED 3- Homes for Our Neighbors campaign please click here:
---
NFL and Major University Players/ Coaches Train Inner City Athletes in South Dallas: July 18-20, 2011
The 2nd Annual "Day of Champions" football camp changed the lives of over 150 inner city students this summer. The camp is run by Josh Heupel's 14 Foundation. Coach Heupel was the quarterback when the University of Oklahoma won the National Championship and is now the quarterback coach for the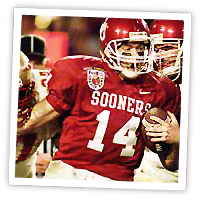 University of Oklahoma.
The three day camp focuses on strength training with 10 training stations dealing with improved skills, quickness, and body positioning. Players worked with some of the top coaches on their skills and positions they play. In addition to the physical training, they were educated on proper nutrition, diabetes, and health issues. Attendees also heard lectures on academic skills, character and ethics.

Attendees also had a personal touch and were inspired as former NFL players shared their personal stories of triumph in the midst of adversity and encouraged the young people to strive for excellence in life.
FEED 3 sponsors events such as "Day of Champions" throughout the year as part of its FEED 3 program. The nationally known Heart of a Champion character development program is a major part of the FEED 3 program.

Please make checks payable to "Strategic Justice Initiatives" and designate the memo line to "Day of Champions." Your gift is tax-deductible. Please send your check to: Strategic Justice Initiative 2114 Iroquois Drive Dallas, Texas 75212

Jubilee Community "Day of Champions" Coaches
Ken Heupel
-President of Day of Champions Inc.
-Head Football Coach Northern State University
Cindy Heupel and academic team
-School Improvement Specialist
-4 Time Regional Principal of the Year
-John Vahn Excellence in Education Award Winner
Other Personalities
Manuel Johnson-Potential
-Wide Receiver Dallas Cowboys NFL
-Former Wide Receiver University of Oklahoma
Dustin Perry
-Assistant Strength Coach Washington Redskin
Earle Mosley
-Former Running Back Coach Chicago Bears
-Former Running Back Coach for Lou Holtz at Notre Dame
-Former Running Back Coach University of Kansas
Jerry Dominguez
-Defensive Coordinator Arizona Western University
Josh Norman
-NFL player San Diego Chargers
Justin Iske
-Offensive Coordinator Northwest Oklahoma State University
-Former Offensive Coordinator Western Arizona
-Former Offensive Coordinator Southwest State University
Waleed Gaines
-Defensive Back Coach Northwestern Oklahoma State University
-Former Defensive Back at Northern State University
Kris Heavner
-Quarterbacks Coach University of Arizona
-Former University of Arizona Quarterback
Lee Blankenship
-Former Quarterback East Central Oklahoma
-Former University of Oklahoma Quarterback
Jarrail Jackson
-Wide Receiver coach at Dartmouth
-Former Wide Receiver University of Oklahoma
Matt Brand
-Running Backs Coach Northwestern OK State University
-Strength Coach Northwestern OK State University
Mike Woods
-Former New York Giants NFL
-Former Defensive Back University of Oklahoma
Ike Eguae
-Football Coach Coffeyville
Give Now!